w3c
w3c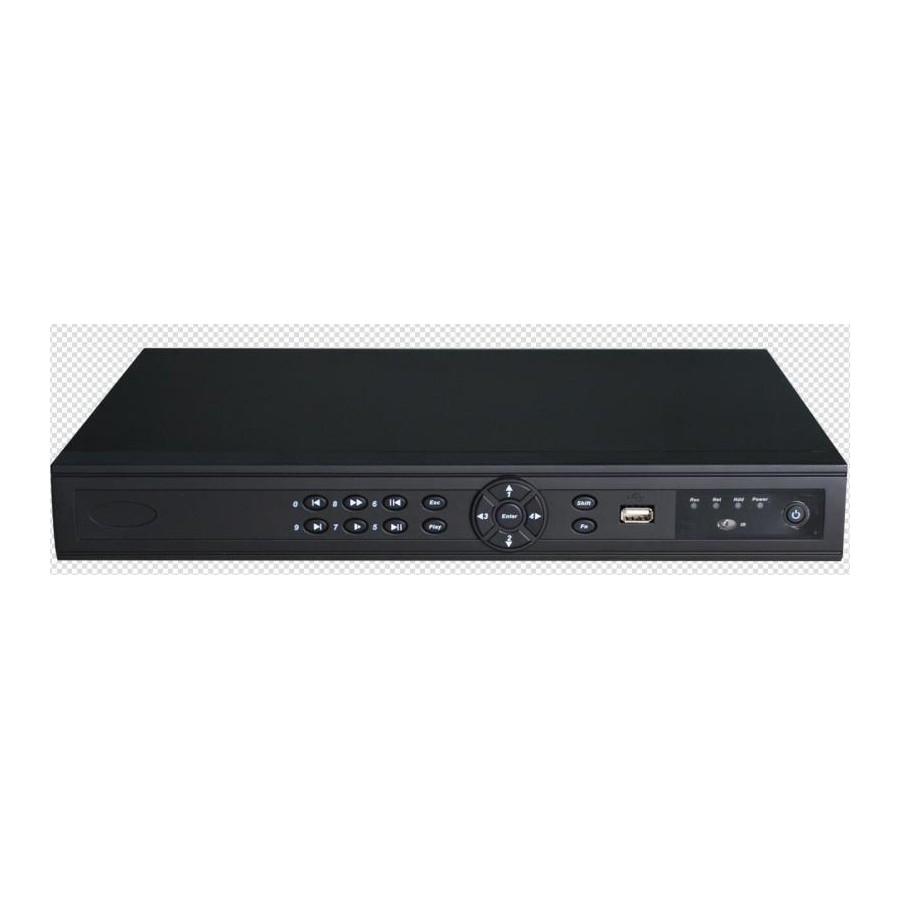 NVR OBA PFD16 Riconoscimento facciale e Perimetro 16 porte PoE
€228.85
€318.85
Save €90.00
Modello Oba PFD16
Nvr 16 canali poe 96mbps cloud p2p 3g  face detect - analisi video
Face detection, Perimetro detection, e rilevamento linea di attraversamento
100% secure payments
Security policy
(edit with the Customer Reassurance module)
Delivery policy
(edit with the Customer Reassurance module)
Return policy
(edit with the Customer Reassurance module)
NVR 16 canali Poe Onvif 2.3 supporta telecamere fino a 6 Mpx risoluzione
Nvr 16 canali con 16 porte poe per alimentare le telecamere direttamente da nvr senza l'uso di alimentazione esterna o switch poe supplementari.
L'nvr della Oba Security Oba PFD16 supporta telecamere fino a 6 mpx ha 16 canali da @96Mbps, e supporta il dual stream per avere la massima efficienza anche da mobile.
Inoltre offre il vantaggio di essere PoE  e quindi ci permette di alimentare le telecamere direttamente dal nvr stesso e la possibilità di collegare l'nvr attraverso esclusivamente un cavo lan.
Questo Nvr è un multibrand poichè è compatibile con la maggior parte di telecamere in commercio e questo anche grazie al protocollo Onvif che è il più usato dai produttori di telecamere. 
Supporto Real Time Streaming RTSP
Supporta Rtsp://  infatti è compatibile con tutte le telecamere con flusso RTSP.
Cloud P2P QrCode
Il sistema Cloud e P2p integrati rendono la configurazione del nvr Oba PFD16  facilissima e molto veloce senza dover intervenire sul router. La visione da remoto su mobile avviene attraverso l'applicazione Oba Mobile mobile in italiano. Con il cloud si ha la possibilità associando un account Google Drive o Dropbox e simili, di registrare eventi come per esempio il " Rileva Mascheramento Telecamera" . Rileva Movimento, allarme locale questi possono essere registrati come testo e come fotogrammi.
 
Compatibile con tutti i dispositivi mobili e Browser Internet (ie, firefox, Chrome etc)
Compatibile con tutti i dispositivi mobili Symbian OS, android, windows, iphone, blackberry. la App rende possibile anche la ricezione di notifiche push sul proprio cellulare con eventuali allarmi.
Supporto MultiBrand
Supporta più di 100 marche di telecamere tra cui Sricam Italia, Oba Security, Sony,Dahua,Panasonic,hikvision etc
Video Analysis
Il nostro NvrOba PFD16 16ch supporta inoltre alcune funzioni speciali come :
Face detection (riconosciemento facciale) 
Rilevazione perimetri. 
rilevamento linea di attraversamento

Data sheet
Modello

NVR OBA PFD16

Marchio

OBA

Risoluzione

fino a 8mp

Onvif

si

Visione PC/Smartphone

si

Compressione video

h265

AUDIO in/out

si

Motion

si

Power

12v PoE
You might also like
Stay ahead of the electronic trends with our new selection.